Virtual Master Patient

Index

and Single-Patient 360 View
Connect and contextualize: deeper predictive and prescriptive analytics across disparate data sources
With the WhamTech Virtual Master Patient Index (WhamTech VMPI), you can seamlessly integrate all disparate data for visible, interactive, real-time contextual monitoring, and deeper insight in to patient outcomes.
Match patients across all operational and transactional data sources and place persons in a contextual role by creating a Virtual Master Patient Index (VMPI) to locate, report and analyze all patient data and content for deeper predictive and prescriptive analytics.
Leave data in sources, preserving HIPAA constraints, preserving data quality, and reducing overall IT administrative costs.
Seamlessly integrate master patient data with operational and transactional data.
Present a query, results reports and link visualization tool.
Achieve rapid, incremental implementation.
Link Visualization
Integrate master patient data with all operational and transactional data sources and presents query results in a browser-based, interactive link-visualization interface.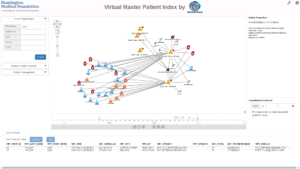 The WhamTech SmartData Fabric™ enables Master Data Management (MDM) to be an integral part of almost any and all information-based solutions, from simple, but highly effective and efficient, data retrieval, to advanced multivariable analytics and link analysis.
WhamTech's Hybrid MDM approach for healthcare is the basis for the VMPI. In its simplest form, the Hybrid MDM is a list of record pointers to multiple data sources for an entity's master data. This master data can include any PERSON beyond PATIENT (doctor, nurse, patient relative, etc.) and any entity beyond PERSON for other analytics (i.e., ADDRESS, DIAGNOSIS, SYMPTOMS, TREATMENT, LAB, MEDICATION, INSURANCE CO., HOSPITAL).
This list of record pointers is combined with query result sets from structured and unstructured indexes, and indexed views, to arrive at master data result sets. The master data can be combined with WhamTech Link Indexes™ for link analysis and visualization, and other more extensive analytics, including fraud detection, liability, performance, outcome, and loss prevention.
Single-Patient 360° View Dashboard
Many healthcare ecosystems lack linkages between patient facing operations and enterprise applications. Such severely fragmented data disallows placing persons in contextual roles. Additionally, an increasing amount of consumer-generated data outside of the healthcare system, such as mobile health (mHealth)  applications, needs to be associated to the relevant users and in the correct context.
Move beyond the EMR and Practice Management system's registry and improve your Patient Engagement and Meaningful Use initiatives with a single source of truth for all registries and from all disparate patient data sources across the organization. The WhamTech SmartData Fabric™ accommodates structured and unstructured data and content, and delivers automated real-time updates from multiple patient data sources.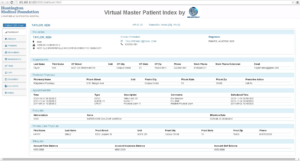 SmartData Fabric™:  UNLEASH the value of data.
For more information, please visit the pages listed below.