It seems so simple to obtain a single view of all data relating to a customer/patient, yet, it remains one of the most elusive goals of any organization.  Many attempts have been made over the years to achieve this goal, of which a separate database/data warehouse/master patient index, seems to be the default approach.  Conventional data federation with cache is the alternative approach.  Both of these approaches have advantages and disadvantages that are the subject of a separate discussion.  Suffice to say that WhamTech offers a third approach that combines the advantages and overcomes the disadvantages of both these approaches.
The fact remains that almost all operations, including CRM and, for example, new workflows using BPM to support smartphone apps, reporting, BI and analytics, either depend on, or greatly benefit from, single views of all data relating to customers/patients.  There are some exceptions, but being able to drill down and associate data of interest with customers/patients significantly improves the benefits of, and the insight from, these applications.  The value is even higher when able to obtain single customer/patient views seamlessly, automatically and in near real-time, without rewriting or writing applications, and also being able to write back updated master data to multiple operational systems, again, in near real-time.
A healthcare example is correlating genomic data with associated patients' complete and accurate health data, without which, any insights, as revealed by genomic data trends and outliers, are of considerably less value.  For example, cancer research, and preemptive and post-diagnostic cancer treatments, require patients' complete and accurate health data.  Other factors from other data sources can also be incorporated in research and treatments, including demographics, environmental and weather.  Similar, but less critical, operations and analytics can be centered on single customers and other entity views, including organizations, business units, products and services.
A single customer/patient view is the basis for almost all use cases that WhamTech is either implementing or in discussion with its customers, as per the following diagram: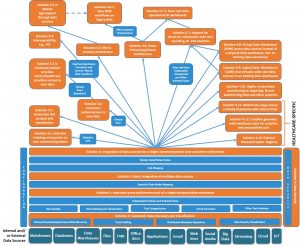 In WhamTech's case, the view is virtual with near real-time data access and updates, as it is obtained through a seamless and automatic integration of master customer/patient and other master data with operational data.  WhamTech's unique index-based federated data adapter system is called SmartData Fabric™.
For more on the seamless and automatic integration of master data, see whamtech.com/blog/master-data-key-to-better-business and for more on WhamTech, see www.whamtech.com.
from Gavin Robertson, Chief Technology Officer at WhamTech.